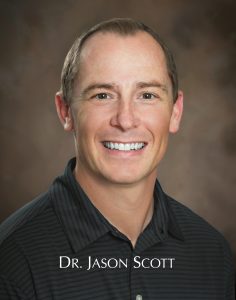 Jason Scott, DDS, MS
Orthodontist
I feel grateful to be part of a profession that allows me to develop life-long relationships with our patients and their families. Transforming smiles can change lives, and that is something I am truly, genuinely passionate about. I believe in working hard, having fun and always doing the right thing.
Education
I graduated from Brigham Young University with a Bachelor of Science degree in exercise science, then I attended UCLA for dental school. While at UCLA, I received several academic scholarships, including admission to the Dean's Leadership Institute, and later served as president of the Orthodontic Study Club. I was then accepted into one of three spots at the University of Nebraska Medical Center, where I completed two and a half years of specialized orthodontic training.
After graduating residency, I practiced in northern Spokane for two years then moved to Broomfield, Colorado, where I practiced for an additional three years. My family and I are thrilled to be back in the Inland Northwest where my wife was born and raised.
Associations
I am an active member of the American Association of Orthodontics® and Pacific Coast Society of Orthodontists. I enjoy attending local and national meetings to stay up to date on the latest technological advances in the industry, ensuring that you receive the most effective care possible.
Outside the Office
With four young kids, I love to stay busy doing "daddy-time" with Braden, Jackson, Leah and Tanner. Together with my wife, Katie, and yellow-lab, Maya, we enjoy exploring the mountains and lakes of the PNW. I also love watching college athletics, playing music, training and competing in triathlons, and enjoying a great hamburger on summer evenings.